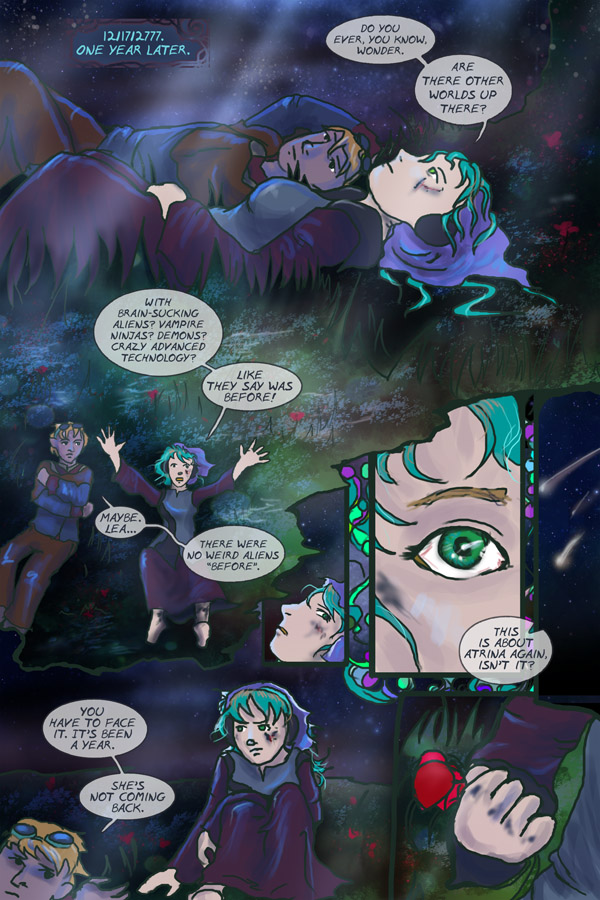 Chapter Two – 1
Nov 26:
So yeah, I was right, no update this Tuesday. I am presently living out of boxes (working on it), trying to finish my Nano, drunk, trying to figure out where the crap my tape, scissors, and one of my necklaces that I really liked went (probably in the boxes), and to top it off, I appear to have damaged my main computer in the moving process.
It's not irreparable. Just a pain in the ass. My second monitor is not reading. It's not the cable; I switched the cables around to see. It's the monitor ports on my motherboard. Neither the DVI or VGA port on my motherboard will read either monitor; the only one that works is the DVI port on my video card. Now, this is a managable state–my computer still works–but also, everything I plug into my front USB ports is failing to work so this has me suspecting I might be facing computer failure shortly. And to top it off, the cord that WORKS for my monitors? Is the one that makes the monitor go batshit and flash weird colors once in a while, obviously making it difficult for me to art.
Repairs needed: new DVI cable. Easy enough.
Temp patch: I have a HDMI to USB converter that I bought that was the wrong thing that I didn't end up returning; I could buy a DVI or VGA to HDMI converter and just use that.
Slightly more expensive repair: new computer. Well, I was planning to do that soon anyway. I've been collecting pieces. I have a SSD, a new harddrive, a DVD drive, Windows 7, and if I start ripping pieces out of my old computer, RAM and a case and a power supply, a WIFI card, a video card. I just need a motherboard and CPU. And well, honestly, if I'm gonna upgrade, I want MORE RAM.
Anyway, all those shenanigans aside, I'm just… I said I'd probably miss an update and I was right. In the meantime, if you're checking the site out, the comic of the week is Kaspell, it's a pretty great anthro sci fi comic that I've enjoyed for quite some time.
Tune in on Friday, and if I can weedle in the time once I've unpacked, cleaned my old apartment and handed in the keys, and fixed my computer (or just sucked it up and worked with the wonky color monitor), I'll try double update next week to make up for the lack of page.
—
Did you check out zeee comic of zee veek? What It Takes!
Whoops! I lied! There is a Friday page after all!
What can I say, I just wasn't feeling like spending time making a nice chapter cover when I could draw the next comic page instead. Sometimes I'd rather do a still image, but today… I was having a really bad day, and for some reason that translated to 'I really wanted to draw the next comic page'.
I'm still having a bad day but at least I have a freakin' awesome comic page to show for it. It's just like I imagined, I'm so happy. I'm really really happy with the first panel. And the second last one, Leawyn's expression just says it all. Ahaha. Now, because of the move I MIGHT NOT update Tuesday. I frankly might not even have my computer hooked up by then. We'll see. Keep your eyes peeled.
There's a new vote incentive as well, I put up the inks for this page because it'd been a little while since I changed it.
So we finally get to see Caed! I actually had to design his outfit entirely tonight, I derped and realized I hadn't actually, of all the characters, designed his outfit for the past time period. D: His design is intentionally a little more symmetrical to indicate the whole 'I'm not a crazy Vilanar' thing.
—
Mindsword: :D A not so subtle nod to my fandom of choice, indeed. :D You're welcome and thanks for commenting!
Danny: Aw yeah, I'm glad Leawyn's showing up in the rotation. You're not the first person to see her too! I think it's entirely random but I'm still excited by it, I know, small pleasures, right? Thank you for voting, by the way! I don't get a ton of traffic from TWCL but it does help, and it's a nice way to deliver a bit of bonus art once in a while.
As for people showing up in a lot less… rofl, doesn't really surprise me. But you know what? I freak out every time I leave my apartment with my keys, I'm just positive I'm going to lose them one of these days, even though I keep them in my purse, or on my desk at all times. And my door doesn't auto-lock. And it won't auto-lock in my new apartment either. Keys are just frightening things, man.
And yeah, doorstops!
I'm really worried one day I will lock myself outside in the snow and FREEZE TO DEATH so you know, I hear ya. I'd rather be naked in a dorm, frankly, than get stuck out in Canadian weather some nights… humiliation you can live through.