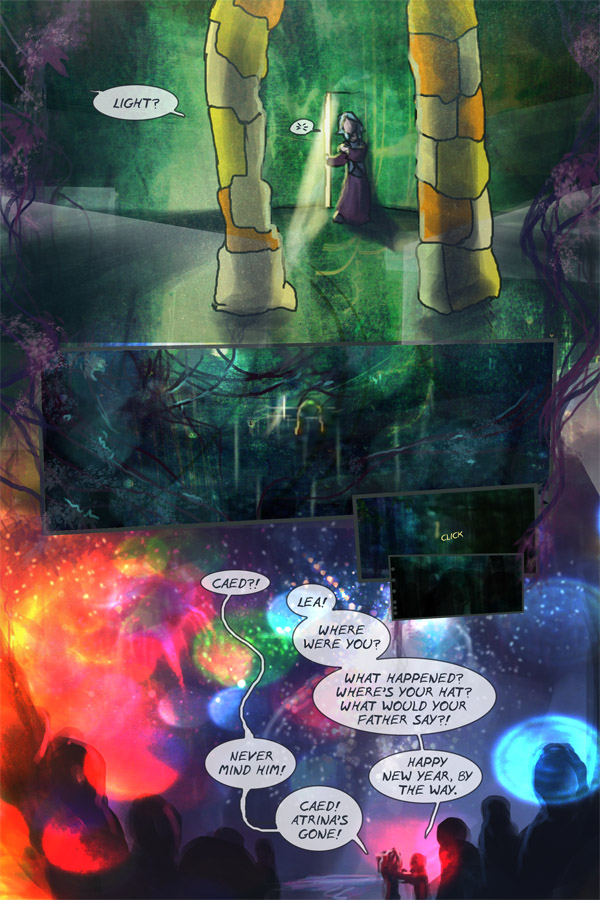 Chapter One – 28
This is the end of chapter one! Friday's update will PROBABLY (almost certainly, if there even is one) be a chapter cover. I don't hate you, I'm just moving all of my worldly possessions on Saturday and frankly, haven't even had time to pencil the next chapter. Also you know what SUCKS? Books. Moving books.
D:
The comic of the week, in case you want something other than my glorious comic to tide you over with, is Kez's What It Takes

It's basically post apocalyptic kickassery. Not quite your run of the mill zombie post apocalypse, really, I can't think of another webcomic to compare this one too. It does get graphic and it does toss around the curse words so probably not a comic to read with granny around. It's violent survivalism in a world that survived the end of the world. But not all hope is lost! There's said to be a city where they've even got a government! Omg. Plus, I have to admit, while the art is simple monotone inkwork, Kez's panelling is really inspiring to me. I mean, check out this page here. http://warofwinds.com/what-it-takes/?comic_id=370 It's a simple strip style comic and she still manages to pull stuff off like that, that I have trouble coordinating in a single page. The flow is just awesome.
/non conventional panelling geek-out.
Anyway! Martial arts in the end of the world! What could possibly go WRONG okay well probably basically everything but if that's your thing, you should totally read it.
ANYWAY! I don't hate you but yeah, if there's a Friday update it'll probably be a chapter cover and hopefully updates will resume as normal next Tuesday. Possibly a little later depending on how long it takes me to get set back up about 5 minutes away. Man, you guys, I have to move all my worldly possessions, including furniture, down 4 flights of stairs with only the help of one mere comic reader and while WE HAVE MASCLES we're still just two gals and a u-haul. Seriously, it's going to take a while and I can't draw and do it at the same time.
—
GeneseePaws: Once I get all of my worldly possessions moved I'll do a process thingummer. This page wasn't a good example to make a processes for since I only inked a little bit of it and didn't color it the same way I color most of my pages… it was a lot of textures. I do not use Dr. Martin's inks. I don't use any ink, it's almost entirely digital. My only traditional part of the process is the pencils, and that's because I find I get better flow when I sketch my pencils by hand. I don't use nice paper for that though, because I'm just scanning them in to ink over them. I honestly hate hand-inking because I always mess it up… smear the ink, gum it up, and then it doesn't even scan in very nice and I have to spend forever cleaning it up digitally anyway. If I was displaying something on a wall I might do it, and in that case, I usually use India ink and a brush, and a handful of Microns and Copic markers.
As for writing exercises, my favorite one is an old classic. Think of the three most likely things to happen next. Then discard them and pick something you didn't think of–this way you avoid the predictable outcomes.
And thank you for the compliment on the vines!
Danny: ROFL. I think when I was younger I too might have hid in the bathroom, but at this point I would've stalked down in my underwear like a boss and demanded help. In fact, when we were at Animethon we saw a guy in his boxers go get a security guard so we determined this probably happens often with auto-locking doors…
Lucky thing for you you were able to get hold of your parents!
You know, it's kind of fun predicting plot twists. I just hope I manage to throw you guys for a loop or two. As a reader, that's what I find fun. Either figuring it out, or being taken for a ride. But with a webcomic since you have to wait so long for new pages, getting taken for a ride is better.
Anyway, in the future, screw the electric company, right? Or use a shoe to block your door. :D And I hope you have a better week this week.