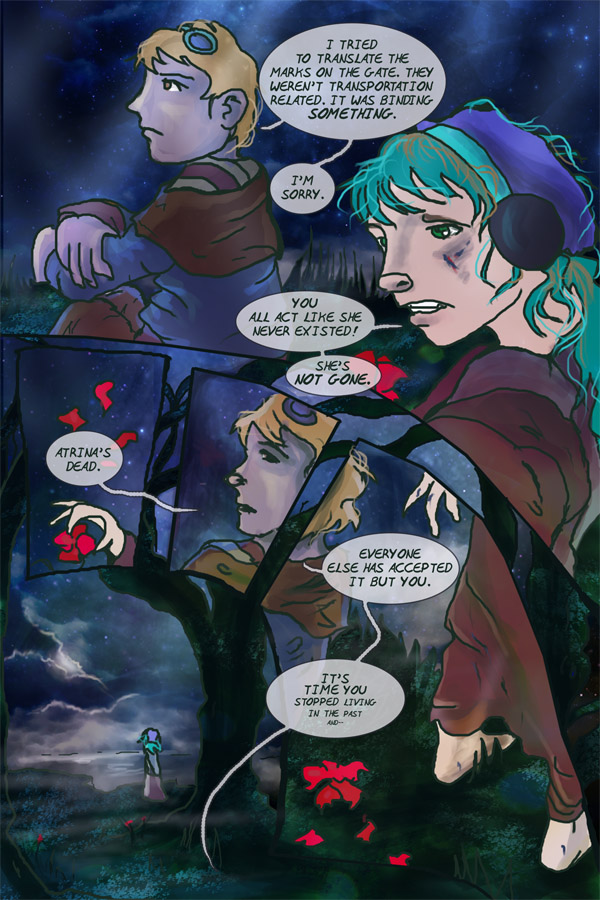 Chapter Two – 2
The comic of… well… last week was… none other than…
Kaspall!
If you didn't read it over my week of moving hiatus, this comic is an awesome noir-esque science fiction mystery. Lucy Lyall also does Spare Keys for Strange Doors, an on-hiatus, unfortunately, comic in the SpiderForest collective that you should ABSOLUTELY READ if you're interested in say, urban fantasy detecting badassery. Seriously. Just read both of them. I've been reading Kaspall for a while and because it's a mystery, I seriously don't want to spoil it. But basically, the jist of it is, there's a murderer on the loose in the crazy city of Kaspall, and with all the odd offworlders flooding the place–who even KNOWS who might be doing it, some new stray to the city or someone local… there's no connection between the victims… man, I really want to reread this dang comic now. Anyway. Sci-fi noir portals blah blah ARE YOU HERE? YOU WILL LIKE IT. Trust me.
Tune in on FRIDAY when I'll pimp out the comic of this week and try catch up, but if you want a hint, it's Cooties, and it's a lot of fun. Aliens fun.
—
SO ANYWAY hi. I'm working on my disabled computer and I THINK I have a solution. My solution just requires a DVI splitter and a DVI cable. Which would be fine, except that paycheck I was supposed to get? Didn't get deposited and now I won't have money until the 6th. Oh well, I'm a food hoarder, I'll be fine. Until then, however, I have to work on my commissions and crap on half the retail space I'm used to, and some of this stuff has GOTTA get done asap.
I can't even BEGIN to describe how crappy last week was. There were tears. It got bad. I'm going to try squeak in a double update on Friday, or maybe like, update on Friday and then on Sunday and then on Tuesday–either way, on Friday I'll let you know; I got Friday's page already sketched and if it weren't for the fact that I have a commission that should have been done a week ago I would have stayed up to do it tonight, and if I didn't have to work tomorrow, I would have stayed up after the commission to do it. Buuut the things that feed me come first. Anyway, the bar is nearly full (yay) and I feel bad for missing updates just, y'know, to move all my worldly possessions while doing Nanowrimo while xyzetfreakin'c so I'm workin' on getting a double update together. And the next page will flow better paired with the page after it, rather than with this one.
I took screencaps of the process of putting this page together, and hopefully, I'll also be able to get a tutorial made. Some of the steps are just like 'and dump texture I already made into the thing' though so I'd kind of like to do a step by step for a page starting a new scene, where I'm making new textures an' stuff.
ANYWAY. I love you guys. <333 I totally appreciate the responses to my computerly quandary and all of the love. YOU ARE THE BEST FANS. THE BEST. NO ONE ELSE'S ARE BETTER. I HAVE DECLARED. -- Auron: The time skip is because, well, most of the story is scripted to take place even FURTHER in the future than this, but it was kind of vitally important to set up that Atrina vanishes through the gate and never... comes... back. Also, I really like non-linear storytelling? And basically everything that happens in that year is summed up by 'Atrina is assumed dead; funeral probably occurs, life goes on as normal for everyone except Leawyn who's now a raging angstball.' And everything that happens to Atrina? Will be covered when I cut back to her. :D Thanks for commenting! GeneseePaws: Hee, well, I wouldn't say I don't know how to plant myself. I did NOT consent to this move, it was forced upon me by freakin' rental agency ignoring the Rent Board of Canada's RULES in the name of PROFIT. -__________- Anyway, I love where I am now, and I hope my wanderlust switch can stay turned off now for a few years at the very least. I want some roots, damnit. I seriously would just buy a house and NEVER LEAVE IT if I could. I took screencaps of this page's process and I'll put it together after I sleep and finish all the other billion things I need to do. The jist of the coloring though, I'M IMAGINING GUYS TEARING OFF THEIR HEADS no wait. Colors. Basically, I slap in flats using a plug-in that does it for me. Most of my backgrounds, I assemble a lot of assets for them straight-away because it irks me when backgrounds change for no apparent reason and because I'm lazy and always loved the fancy matte backgrounds for movies. Once I've put in the basic background stuff, I add in any things that change from scene to scene--say, the red flowers or the clouds in the last panel. Then, most of my shading is started off by what's sheer cheating. I have a texture or three that I've used in almost every page. I drop the texture on top of the panel, set it to Overlay and drop the opacity down, and then I erase where I don't want it to get the start of the luminescent lighting. Sometimes that's all I have to do, and other times, I make another layer and hand-draw in the shading. Then I usually make a layer above the ink to add stuff like glow effects, or the mist, or the flyaway hair. So, basically, cheating with textures (some of which I made, some of which are stock) and then a nice opaque brush and existing knowledge of color theory.