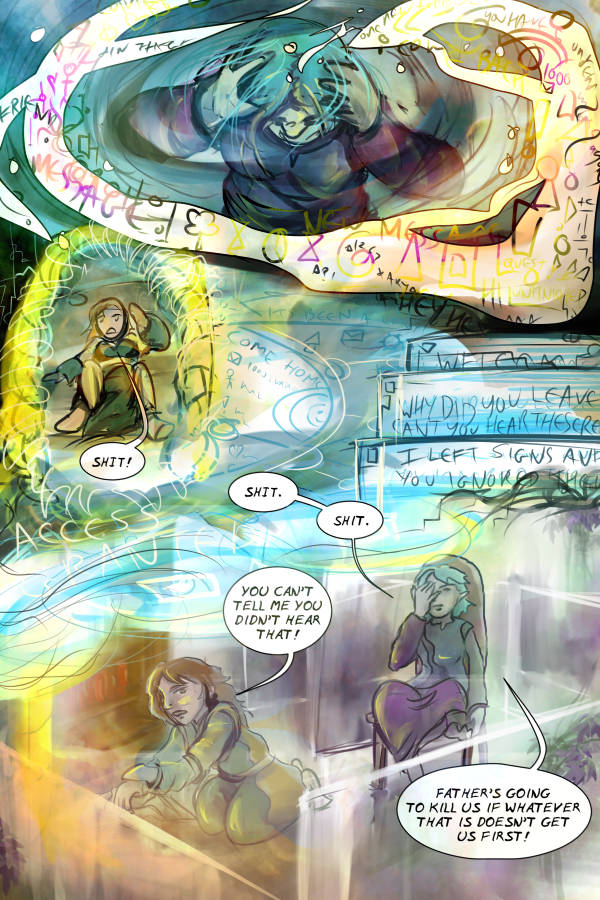 Chapter One – 12
Old page: http://stargazersgate.com/wp/wp-content/uploads/2013/09/page12.jpg
I only have one page left in my buffer, but I'm back safe and sound in Winnipeg with reems of art left to do. D: Hopefully the next couple of days will be productive. I found the stuff I thought got stolen on the bus (thank goodness), and I got my friend to grab me some groceries and I didn't have ESP because they were three short at work today. T_T If I would've left later I could've worked a couple of more days, but I'm glad to be back anyway. With the donations and the art contest from the Genocide Man, I got about half of the cost of my return ticket which was fairly helpful, and then since I got the days at work, I will have some money on Wednesday. Yay! (throws money into the air, hopefully in the direction of my rental agency)
This page was also a bit of a bugger to put together, I'm not sure if I like it but I really wanted the visual of the gate speaking in imagery. I also wanted it to be kind of like they were talking at the same time as this stuff.
I painted a WHOLE NEW BOOKCASE for this angle. D: (grumble grumble bookcases grumble) I should've inked the dang thing but I'm not sure how much background I want to ink when I usually enjoy painting them.
—
Auron: Glad to hear it! And sorry if I accidentally called you Austin, I actually have a hell of a time still mixing up letters and syllables. On bad days my d's still turn into b's or even worse, p's or q's or have all four sticking out of them. Twas a slexdixit moment.
Danny: Dang, that sounds like a Fun Time. I'm sure you'll find somewhere else with free wifi eventually, hope you don't have too many technical difficulties. I'm glad you're back though! :D Game studies, that sounds like fun. What kind of game would you make?