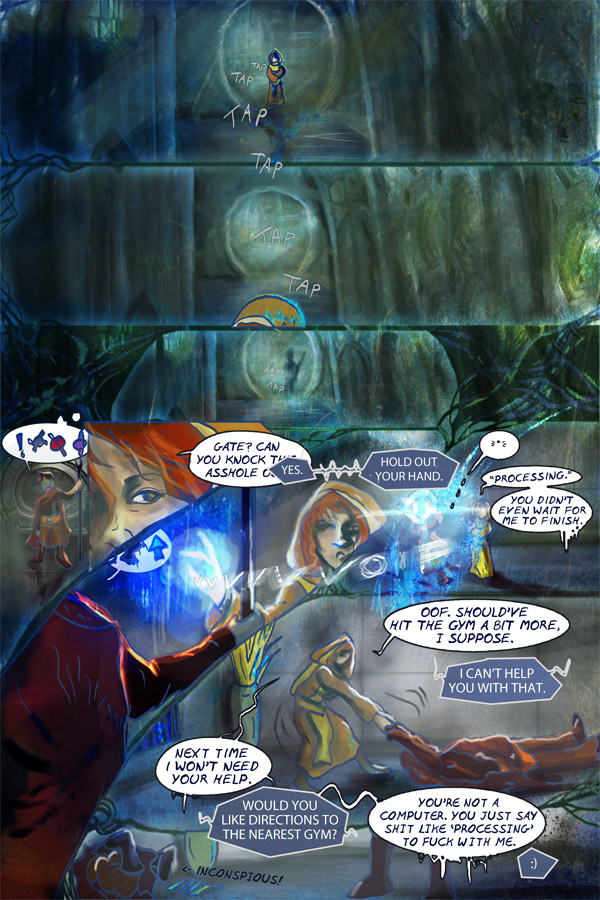 Chapter 2 – 33
Yeah, it's been a while. I'm not dead. I do intend on still updating as able. I'm working two jobs now, but the one job is commission only so if I have no clients I can hang out with my laptop so I've been bringing my tablet to work with me and picking away at pages while I can in the background.
I am relaunching to finish Between Places under the tentative title of 16 Ways to Not Fall Asleep. I'm working on the preliminary stuff for it. You might argue, but technically, I started that comic before this one… a long time ago… so yeah, keep your RSS feeds open, it might eventually happen.
Thank you to the people who financially helped support me through my rough times. I might not have been in much shape to update, but I appreciated the dollars you sent my way. There were times where it was 'choose between medicine or cat food' tight, and well… things are looking… I wouldn't say up, but they are at least looking.
Normally I like my art all right, especially the coloring, but I am not feeling the colors on this page! Oh well.
Naleta: (HUGS)
John: Annnnnnnd then it was gone again. Aaaaaaaand now it's back.
Tre: Make it so. (vroom) Yeah, the scroll over text is not important but gives hints as to the nature of the universe.
GeneseePaws: Yo. Yes, I did get your donation, thank you! :D
auron: Yes, I suck at actually updating at a sensible scheduley rate thing. I feel like it'd be better to just sit back for a year and then read a bunch at once. If only I could do that… thanks for reading.
ivan: I too have several comics on my RSS feed that have sunk into oblivion so I do understand the sadness. I'm trying to get back in the game. Thanks for checking up on me.