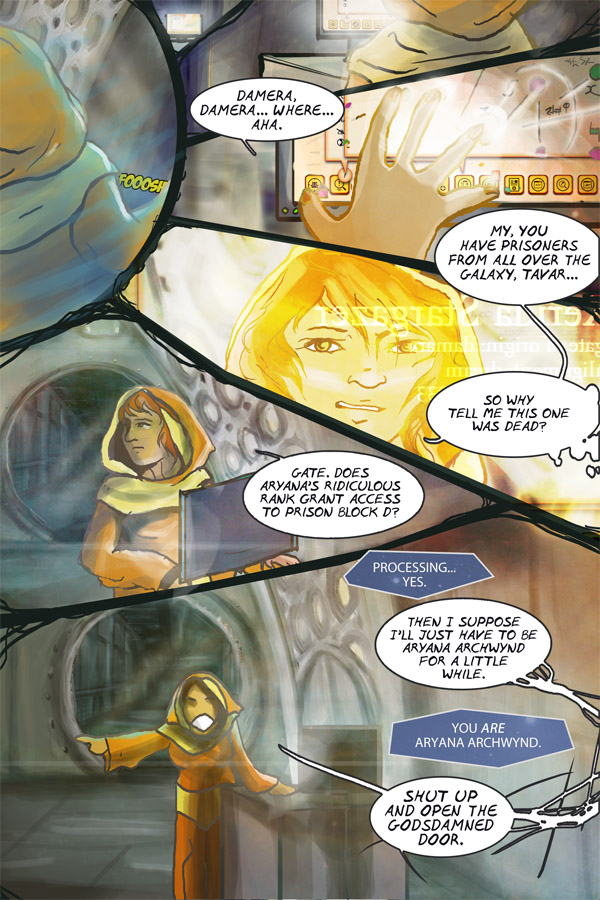 Chapter 2 – 32
The comic of the week is…
Which if you have looked at my links page, you have probably already read. This comic is a goofy Terry Pratchett-esque fantasy adventure through what's probably the land of dreams. It uses different art styles to convey different universes, includes toast-powered vehicles, some pretty interesting magic concepts. And well, if you're here, world-hopping shenanigans are INDEED something you are interested in, so that alone should give you reason to check it out.
Seriously, though, it's a good lark. There are some sweet magic effects in actions/fight scenes using the "written scroll of magic runes" effect that I absolutely adore but cannot personally replicate. And I love funny fantasy. Worth checking out? I say aye.
—
I AM VERY PROUD OF THIS PAGE. Perhaps moreso than usual because like, I haven't been doing pages. Uhh, on the comic updating front, I replaced this page with updated art, and I also updated a couple panels on page four and one other page which I can't remember at the moment. I definitely recommend having a look at the redone chapter 2: 3,4 though. The art is far clearer. I'm not going to prioritize fixing pages over new pages, but there are a few more (specifically: the four pages following that one) that I badly want to update with cleaner art. So, until I at the very least get those four pages redone, I will be sticking to one page a week. Then I'll see if I can build a few page buffer, and return to giving multiple pages a week.
Nothing else to report except a vicious cold and my relief that codeine is over-the-counter in Canada because NOTHING else has managed to stop my coughing, and I have seriously tried EVERYTHING else that can be bought in a pharmacy for coughing. I got tired of pushing my diaphragm back down my throat, what can I say. Call in sick? Nahhh, not until I'm coughing so hard it makes me puke, and I have to brace myself against chairs to stay upright. Cause of course what I got isn't contagious, and antibiotics are useless for it. :(
I'm screwing around a bit with slightly tinted lineart. I was aiming to avoid it before, because I wanted starker lines, but I'm very pleased with the outcome here.
Naleta: omg one of my fans is still here. (HUGS) Don't worry, I'm not over-stressing myself, actually, it's a huge relief to be doing some art for ME since I've been up to my elbows in commissions I don't have enough time for. I really miss doing art for me, and I think my enthusiasm to be doing it is showing in the improved quality. Don't you worry, the story will unfold at some sort of pace, at the very least! SSG isn't the longest story I've ever written by any stretch of the imagination.