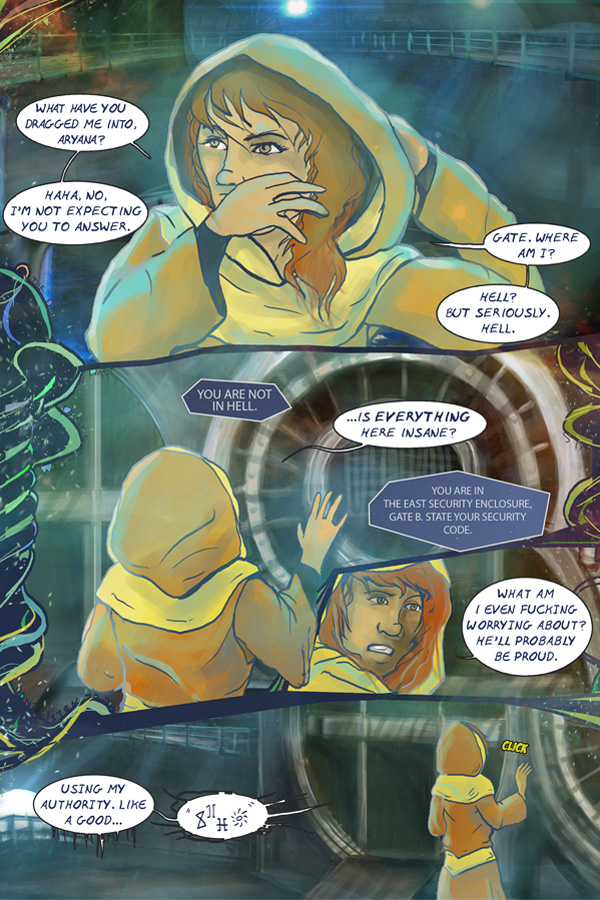 Chapter 2 – 31
Before I go on about me, or perhaps you just don't care to hear the story… please read the comic of theeeeeeeeee week!
The comic of the week is the fine Supervillainous. If you know me, you know I have a certain fondness for supervillains. Or more, villains that are perhaps a little less on the super side and a little more on the, well… they tried… side. Supervillainous falls less along the Joker-blows-up-orphanage side of the scale and more along the "Family-Circus-if-Darth-Vader-Was-Dad" side of the scale. Destroy the world and then get home for dinner. Extra points for appealing to my pun-loving side with things like a comic titled… "Anarchology", heh heh heh.
–
Uh, so, hi. Remember me? I'm Ti, your friendly neighborhood artist and writer. I'm back, which is kinda terrifying. Here are your updates.
Mental health: on prescription drugs. Has its benefits and its problems but mostly I feel like a normal person as long as I have my anti-d and some Ativan around.
Busted shoulder: Works more or less like normal now.
Computer: Laptop broke. Amazing girlfriend obtained me a shiny new one (which I'm working on now). Have obtained motherboard and CPU to update desktop by trading with someone on Kijiji. Woo.
Commissions: Picking away at them. Once I've caught up I'll take on new ones.
Updates: Angling for one page a week until I get the commissions caught up, and some old pages redrawn.
Crappy pages from when I really shouldn't have been drawing: redrawing some of them. I have already replaced two pages and while I'm not prioritizing them, I'm in the process of inking two more. Yes, yes, I know, webcomickers should always focus on the future… but some of those pages are VERY bad, I can't stand them, give me a break!
My art: Funnily enough, I'm a way better inker when my shoulder isn't killing me. Also discovered "tilt sensitivity" and suddenly my inking improved by five thousand things. Coloring: I feel hellishly like a child, this is where I'm really having trouble. I might end up actually posting only lineart pages. Yes, this page looks awesome, but doing that painty stuff is HARD after all this time. REALLY weirdly enough, somehow after a few months of not drawing at all, my anatomy improved. Dunno how that works.
My girlfriend: Awesome.
My social life: Beer doesn't interact well with my script.
Entertainment: Football is awesome. Star Trek: Voyager is awesome I don't care what anyone else says.
Employment: I basically run a shoe store. I'm very poor, but I enjoy it.
You guys who gave me money: omg you have no idea how grateful i am. Being able to afford food and my prescriptions back there made a hella difference in getting back on track.
You guys who gave me fanart: OMG PRETTY it'll be posted up in due time. :D
You guys who kept on reading even though I update like sludge: also amazing. I know some of you will slink back into my fandom box, and I hope you love the pages to come.
Thanks for reading.