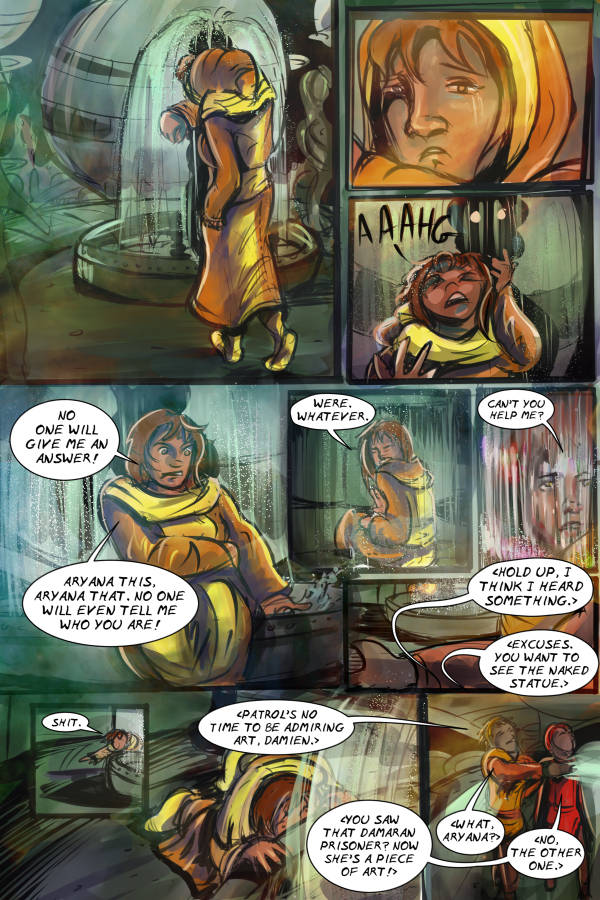 Chapter 2 – 27, 28, 29, 30
Old four page that was here before.
The comic of, well, many weeks ago is Evus! Seriously, if you haven't checked out this beautiful steampunk adventure you are MISSING OUT. Here's what the site's synopsis has to say about it.
"In the midst of this chaos, an adventurous, idealistic boy named Wester comes face-to-face with the reality of the world's crisis. Fearing the eventual fall of his beloved hometown, he sets off on a journey to his capital city. Little does he know, his adventure will quickly become far different and far greater than he could have ever imagined…"
I cut out the description of the chaos bit, but basically, steampunk WAR and cities are DROPPING OUT OF THE SKY. Omg. Yeah, I know. All that said, I love steampunk and I love a beautiful work of art and this comic is both of those things.
—
Also hi.
With the April Fools comic I aimed to riff off of a few things in the comic already, just for the fun of it. I hope you enjoyed it. Maybe it seems like a jerk thing to post a non-comic update when I'm in a hiatus mode, but doing that stuff is so much easier than an update like this.
As for me, no, I wasn't okay. But I will be.
Updated the donation bar, thank you to a couple of my fine readers for feeding it! Back to Atrina, I was waffling between her or Caed or Caire here, even though she's an NPC. Seriously, there was one of those days I was so relieved to find out someone had donated. I had no money, I was scared, and then someone dropped like, five, ten bucks in and while I felt like a jerk for not updating, I really appreciated it. I'm sorry I was in no state to comment on this at the time, but if you see this, THANK YOU!
—
Auron: IT A COMIC and your comments are fine, jeez, relax. It's certainly not your fault I dropped off the face of the planet. Thing is, people on the internet don't have to agree with each other! And I appreciate your comments no matter how eloquent or brief they may be!
Genesee: As a writer I am very often in the same room as my co-writer. :) So those days are not lost. I'm glad my April Fools comic made you laugh out loud! And I appreciate your messages and your attention to me and my comic, I really do. I'm hardly done, just… slow these days.
And to everyone else, thank you for reading.