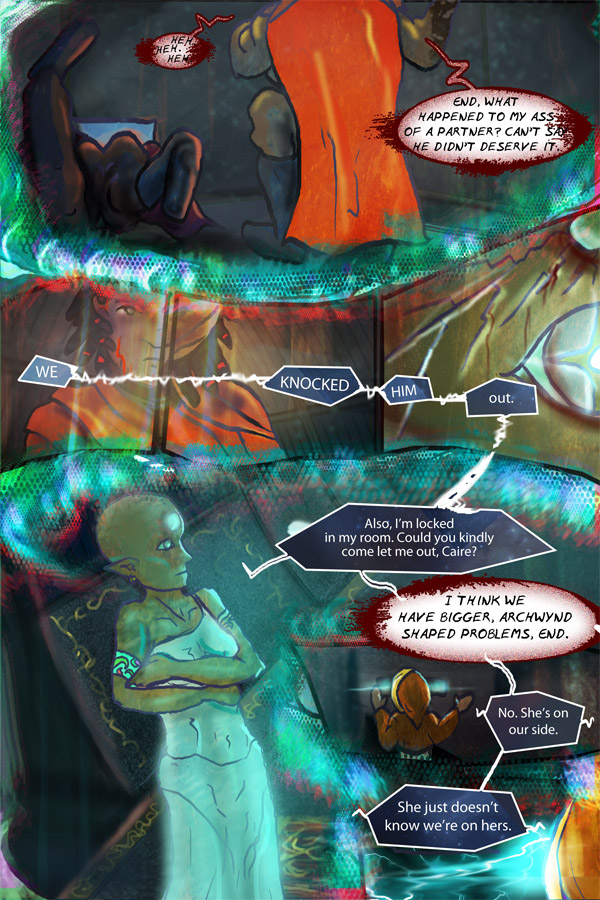 Chapter 2: 34
Well, I didn't mean to actually update my comic this soon after the last update but HEY HERE YOU GO. THE NEXT PAGE. ENJOY. Funny, when I'm on the verge of breaking down because I'm going to lose my main job, suddenly art happens. I'm doing my road test in like 2 hours… guh. Wish me tons of luck. Actually, by the time you read this I will have already failed or succeeded, but so be it. I feel like I'm going to puke. Once I get my license, I guess I'll just buy a van and move into it or something. I always wanted to be a homeless artist.
The NEXT page has a grand total of 16 freakin' panels, and I have it penciled and lettered, but it might take a little bit longer because yeah… lots of small panels.
–
SpiderForest is going to be accepting new applications in August, so if you happen to have a comic that you think is awesome and would fit in with our current lineup, by all means, apply! You need to have a certain amount of archived pages, be updating somewhat regularly, and generally, we favor people whose applications indicate that they're community people. So you can be like me and suck at updating on time but if your application is community-centric, and less "my comic is awesome me me me me me", y'know, please apply. We love people who are full of ideas that take advantage of the whole idea of a COLLECTIVE, and not just the idea of more traffic. Yeah, you will get more traffic if you are accepted, but collectives have other awesome advantages, like convention table sharing, fanarts, the awesome webpage that we just launched that was the work of collective members (but mostly Delphy from Sombulus who was pretty much awesome there)… Oops, sorry, not trying to bitch. Anyway, if you have a comic and you think you would like to be involved in a collective instead of striking out on your own, and you like the SpiderForest brand and some part of you thinks, you know what, my comic should be a SpiderForest comic… and if you need some advice on your application or whatever… you can always shoot me an email and I will be happy to look it over and encourage you to apply! We accept about 25-50% of applications each time we do it, and several of us applied multiple times in a row before getting in so don't take it personally if you don't get in… we only take as many people as other members have time to help settle in. But totally apply, if you're still reading this and waffling. Do it. Do itttt. I mean, c'mon, they let an asshole like ME in, right.
Uhh.
Also I would love it if someone out there is a writer and could take a good look over my outline for Between Places act 2, and is okay with getting every single spoiler.
Ummm… anything else? Well, if I do lose my job I'll have tons of time to finish the next update, but I do have the next 5 pages sketched out now, so I'll try to put up my next update sometime… ehh… I'm going to iffily say something like Monday. Monday's a holiday here so I should have time to finish it up by then.
Wow, what the hell, I just hit 'preview' for this post and got this. "Not Found – Or Dead & Buried
Nothing found for these summoned demons. Try a search instead? Beware what lurks around the corner." GUH WHAT. MY PAGE IS EVIL.
It's funny, right. I hated the art on the last page and on this page and then I read my archive and I saw some of the pages that are in the middle, when I had busted my shoulder, and WOW. Those pages suck. It's just like these last few where I've suddenly got my art game back on and I feel like they're terrible but they're really way better than some of the earlier work, lol.
Okay um. Right. PEOPLE.
Auron: You can totally call it a comic if you want to. I consider it a graphic novel because it's all long form and shit, but y'don't have to apologize. You Canadian? Apologizing for that is totally a Canadian thing to do.
You have been reading since around the beginning, so I'd say yeah, close to a year. I think I started it last year September? No, no, I totally started it two years ago, didn't I. Wow, time goes by. Anyway, I'm going to try to get my updating game back on.
Ivan: Well, it's not that hard to pick the thread back up because I have all of Stargazer's Gate written out. I've just added a few extra subplotty things. Okay, tons of them. In the original draft (SPOILERS SORT OF I GUESS WARNING), the story starts a couple of years later, following Caed in the forest after an apparent disaster near the coast, and then Wynd invades Damara and it's revealed that Atrina was leading them all along and didn't actually die… then when I was writing it I realized the importance of writing said disaster, and Atrina's disappearance and devolution character arc, so I wrote that stuff, and realized that made a more interesting comic, because Atrina has way more personality, and the whole personal bit with Atrina/Leawyn trying to find their way back to each other. (END SPOILERS SORT OF) So yeah, anyway, it wasn't too bad. I just have to get my ass in gear and make more comic pages.
What's your story about?
naleta: Man, I don't think my work is so great that it's worth waiting for, but I'm glad you guys do. And I suppose that has a double meaning: if I go and die or something, then I won't get to see the work that I was waiting to make… that'd be sad too. So yeah. Anyway, turns out you didn't have to wait too long this time… WORKIN' ON IT WOOOOOOOOOO.
4LS: Well, this page should clarify something about the nature of said computer. But yeah, I was riffing a bit on how it's like seriously, smartphones are getting a little bit too know-it-all for their own good, okay google? (boboop) (eyes it)
Man, I don't think you've ever commented before and now I'm all intimidated because I love your comics. ._. :D