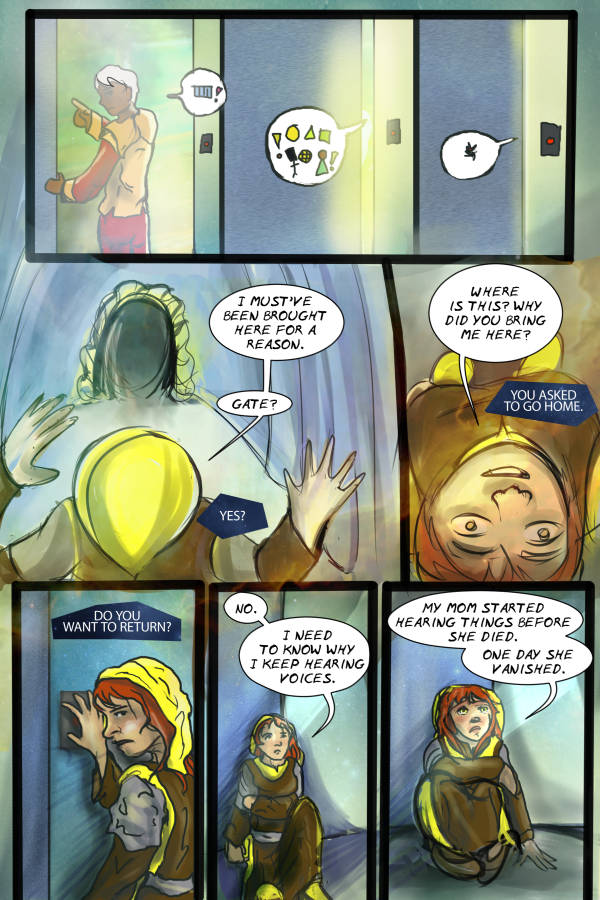 Chapter 1 – 22
Old page: http://stargazersgate.com/wp/wp-content/uploads/2013/10/page22.jpg
I changed the cover, so, you're welcome to hit 'first' and take a look at the new cover. Before my fans go all 'BUT IT WAS NICE THE WAY IT WAS', yeah, it was, but for some reason I had a really high exit rate for the cover (compared to a very low exit rate for the first page). So obviously people were judging my book by its cover; I liked it just fine too. I figure changing it to have Caed's face visible and tightening up the art might make it a bit more accessible. The old cover is still visible, just scroll down into the news for the cover page.
Also someone just added me to Belfry Comics and dang, yo, I got a lot of hits from that. o_o Thanks, I guess. I appreciate that you were attentive enough to add the LGBT tag.

The comic of the week is Sunset Grill! It's just a typical night at the grill, a snapshot of a shady side of town where your first question's "where the hell can I get a good beer"… as long as your typical's set in a far flung gritty future full of gang wars and green aliens, alien technology, and just plain old life.
Sunset Grill. Because you CAN get a beer in space. You can also get shanked in space. And play poker in space. And Wookiees don't lose easy in space. And once you're done all that there's still the same old bar and grill on the wrong side of the tracks on Earth to come home to, get into trouble in, have a good beer in. It doesn't have the space exploration aspect of Star Trek, or the flashy fights of Star Wars, and that's okay. The episodic storytelling fashion should appeal to people who aren't looking to sink their teeth into a massively long format comic. Instead, the less linear storytelling presents a picture of the bar as the main character, events bringing to life the image of a less than grand future.
I just want to throw a little extra nod at Sunset Grill because, damn Kat, you are better at selling my comic than I am. You made me want to read my own comic. Also, happy birthday! If you visit Sunset Grill, please do wish Kat a happy birthday on Friday. :D
—
Zan Azoth: I'm wondering what this comic you're thinking of is. It's not mine. This is my second comic, but the art style was drastically different in my previous work as I was strongly opposed to inking it. Also my last name hasn't changed and I'm pretty sure somewhere on the site it said it was by Tiffany Munro. I'd let you guys hunt for the thrill of the chase, but I can save you the trouble. My previous work is Between Places, it's a very different comic and a lot of learning experience. You can also find it in the SpiderForest collective page.
Your first call was right, by the way; the new guy is annoyed that Atrina can't understand him; she's just reading his body language.
Hedgehog: Thanks for your comments and the compliment on the cover! I actually just changed the cover now, though, so be sure to take a look at the new version.
Auron: Hey, if you've been busy, don't worry yourself over it. But thanks for coming back! Tavar is basically like "what the crap are you doing in my personal private chamber of DEATH AND DESPAIR oh you can't even understand me, great, you're a total idiot, whatever, I'm leaving, just stay there then."
GeneseePaws: Yeah, you're right, Atrina's reading his body language. (googles wines) Aha, it's a Reisling hybrid grape. I had a good Reisling once, it was my only good experience with a white, though it's made me pretty confident that German wines could go in a good direction. I don't know how hard it would be to get in Toronto, I've never been there. :D There are at least a couple of good wine merchants here that carry a fair variety, maybe I'll get some time to myself in the next few days where I can afford to walk down.