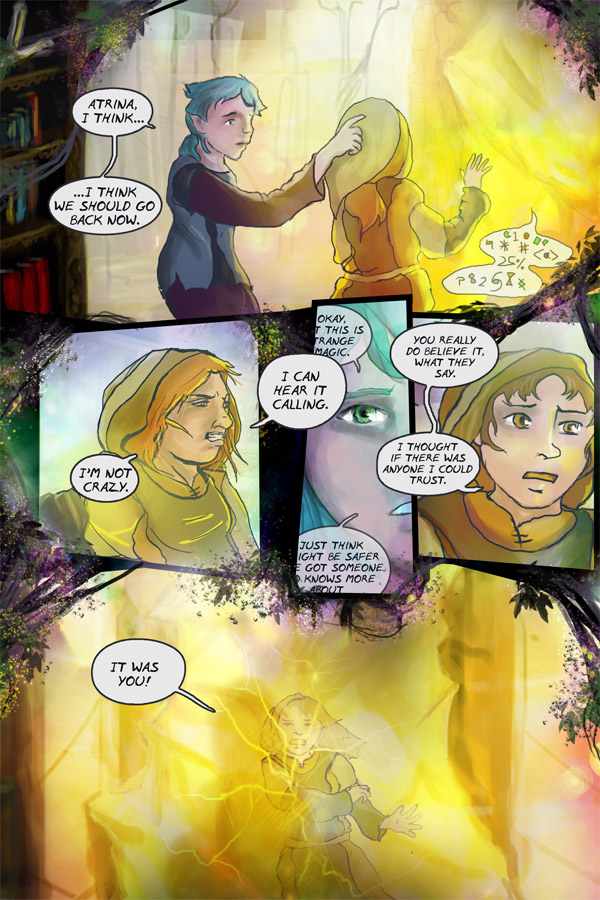 Chapter 1 – 10
Oct 4/14: Redid one of the panels, you can view the original here.
Hey there! I'm safe and sound in Alberta except for the bit where someone on the bus may have stolen my asthma medication (or else I was really dense and managed to not pack what I need to BREATHE). I've decided to be optimistic and hope if that was the case, someone who really needed it stole it because I know how much it sucks to not be able to breathe. I have a stash of full inhalers in Winnipeg anyway, so I got to a doctor today and he gave me a free sample of a similar medication so I could tide myself over for the week. I didn't know they could do that! So I am very happy about that.
I haven't gotten into my external harddrive to find the file for my donation bar, but it should be at a massive 18 dollars. Hot damn, you guys are OUT OF CONTROL. (fans self) Another 22 dollars and you will get a fine bonus update. :D Thank you all for the tips, I appreciate it, it means I can get an inhaler or have lunch or buy a couple beers or a couple new markers.
For anyone worried about me getting stuck in Alberta, my old boss scheduled me in (one of my coworkers busted up her foot just in time for me to come visit, it's almost like MAGIC) and so I will soon have money and anyway, my mom would have helped me out if I couldn't get days. Plus I have a job interview lined up for a homecare nursing position once I get back, which would be pretty awesome because I love caregiving, and it's for a company that tries to pair people up based on their interests, so even better, I'd probably get some artsy old person, which would be AWESOME. Anyway, fingers crossed, it would be a well paying part time position.
—
Danny: Oooh, university. McDonalds has free wifi. I know because I uh usually use McDonalds wifi for my internet purposes, I don't even have home internet. :D I just have a smart phone. It's actually cheaper to just get like a one dollar drink when I want to use the internet. Good luck with uni, what are you taking?
I won't get stuck! I was just all worried at first but now with the days I've been given I'll get enough to buy a return ticket AND pay my rent next month. :D Ah the trials of being a full time artist. XDXD Thank you for hanging out anyway, and I'll forgive you if you don't comment EVERY update, I understand that school makes people busy.