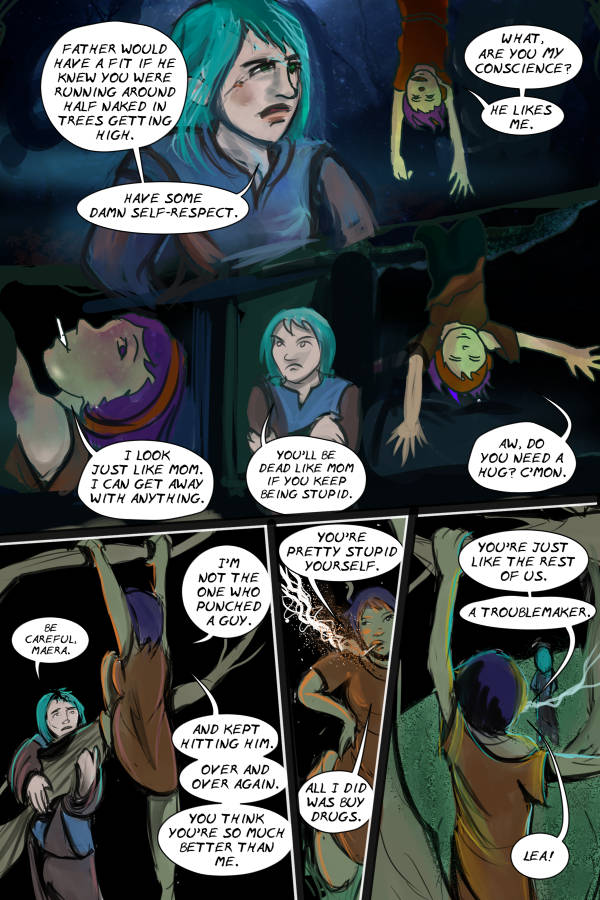 Chapter Two – 5, 6, 7, 8
Old page(s). Old page used to be 4 pages long. I trimmed it substantially because I lose a lot of readers on this page and I figured some of it might have been because of how weird it got. http://stargazersgate.com/wp/wp-content/uploads/2013/12/33-36shaded.jpg
Check out the comic of last week (yeah I know, I missed a week of EVERYTHING), which is Supervillainous! I made this gentleman's site when he joined SpiderForest so I've had the privilege of dealing with him and he's pretty okay! And so is his comic! So I'd honestly recommend it even if it weren't in the Comic of the Week rotation… cool creator, funny family Supervillain comic… it touches my funny bone and my HEART. /cheese
But seriously, in lieu of me saying things, read it instead.
QUADRUPLE UPDATE woosh
Look, it's really late, I'm really tired, these pages aren't quite finished but they're mostly there… and I really would like to get 7-8 hours of sleep tonight. I would love to write more here but I'M ANSWERING YOU GUYS TOMORROW. TODAY WHATEVER I don't care I'm sleeping now.
I don't have time to do anything but I hope to update once more before Christmas, whereupon there'll
yep. done now sleeping now
Tune in like
tomorrow or like
more realistically the next day
like
Saturday
and this page should be shaded and I'll answer the comments and swoosh.