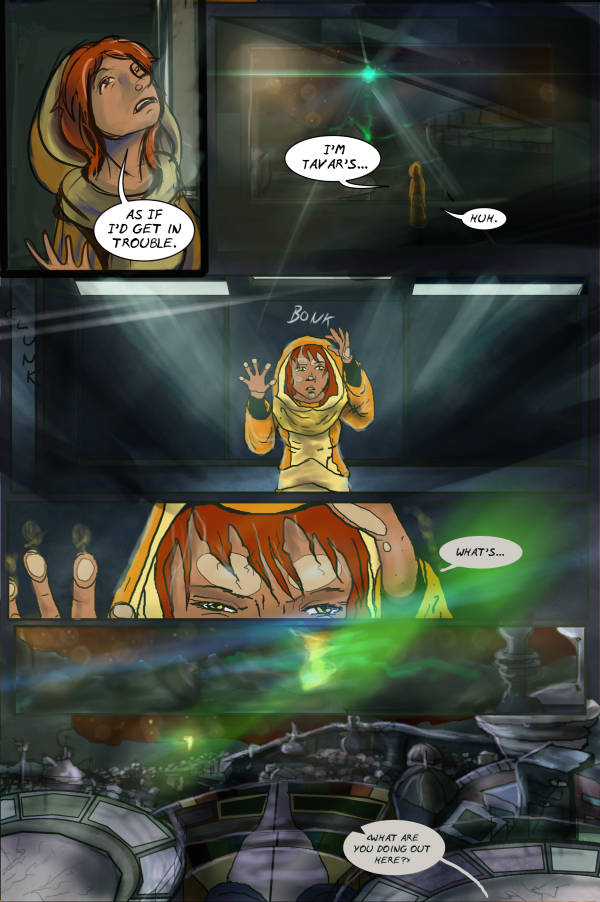 Chapter 2 – 21, 22
Old pages: http://stargazersgate.com/wp/wp-content/uploads/2014/02/page47-48.jpg
Edit: Walla! Finished the page. More or less. Might poke it some more later. Hit refresh if you're still seeing the old page. The new pages has 100% more lens flares. If you saw the unshaded version it should give you a good idea of how ridiculously much time I spend on shading (though I cheat a lot). Anyway, gotta give my arm a rest. Of course I have a bazillion commissions to do this month still. Don't forget to read the COMIC OF THEEEEEEEEE WEEK linked below.
Sorry, guys. I thought I could do it, but I can't feel my freakin' arm anymore and now it really hurts, so I'm gonna stop while I'm ahead. Inks and partially colored. I overestimated my ability to do art for hours at a time. The light things on the roof are going to be (you guessed it) lights and the exterior view will be painted up a little (lot in some cases) more. Like the city at the bottom? I just desaturated the colors the thing generated, it is NOT gonna be that weird of colors. I figured after all this time you'd rather have a part page than a no page!
If you're impatient to read something, why not read the COMIC OF THE WEEK! It is Damsels Don't Wear Glasses! This is an urban fantasy comic about an ass-kicking heroine who also wears glasses. Now, I'm not so sure on this damsels not wearing glasses thing because my mom totally wears glasses and is also totally a damsel, but the main character, Lave, here is a no-nonsense, don't need no man kinda gal. In fact, it's usually the male character who's the 'damsel'. The art's pretty unusual for webcomics, and quite frankly, while I read the hell out of this genre in novels I can't think of too many other webcomics like this. Maybe like… Shadowbinders? That's a pretty lofty comparison, but anyway, I think you'll like it. It's certainly way less slow paced than my comic, anyway. I mean, something freakin' blows up within the first three pages.
—
Abe: I'm trying to rest until I'm better but after a week of resting I get so IMPATIENT. :D
Genesee: Wooooo NSAIDs. Fortunately I had a stash of perscription strength ones from the time I did in my wrist… the doc gave me way more than I needed! Diclofenac to the rescue! And Advil! And menthol! And hot water! I'm pretty sure that what I did was tear the thingy in there a little bit because at first I didn't have a full range of motion and it made weird popping noises but now I can move my arm properly, just if I overdo it it freakin' hurts. Like now. :D I'm not gonna try snooping in my computer right now but I believe I have all of my PCI type slots jammed full of stuffs. Got a Wifi thing and a USB thing, I think. If you want to donate me anything the RAM would be best, I think!
Three cheers for Advil. :D
Naleta: Man, chronic shoulder issues would be SO much worse though. I know that given another week I'll be perfectly fine! Thanks!
auron: Blaming Hitler seems reasonable.
anonymus: Hey, thanks! The previous pages are for you guys to enjoy. But I want to make new pages as much as you guys want to read them. >___>