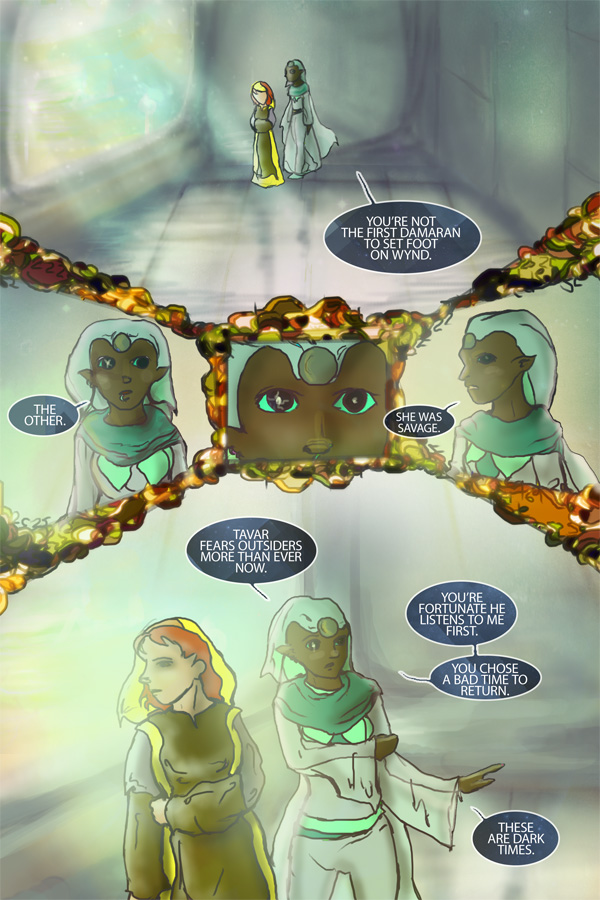 Chapter 1 – 24
I am SO TIRED so please forgive me if I miss some things, I have to go sleep asap. The Comic of the Week is Chirault.


Chirault is a cute and terrifying comic all at the same time. It has lovely inkwork that stands out to me as pretty much unique online, a style that's definitely Thane. And it's about a tiny girl standing on a demon slayer's shoulder. Or something like that. Look, I am REALLY tired. Seriously, though, some of Thane's later work is just kind of scary stuff, wonderful and smooth paneling, very different from my comic but I think you guys will love it.
Pretty happy with the background work in the top panel there. I feel like I'm finding my old skillz again. Yeah.
A couple people donated some money to the extra page fund so we're halfway there! WE HAVE A BI sandwich, now let's make it a BLT. No hurry though. I'm pretty busy and while I love making the extra pages (faster updates are always a good thing!) this November is going to be crazy. Did I mention the apartment issues? YEAH. Fafgkljfg. And I'm doing Nanowrimo. And commissions. And…
I got a job. I'm working temporarily for World Vision trying to get kids sponsored. Being on the inside is an incredibly powerful experience and you really get an awareness of what's really going on. The people trying to get your money? We're not just jerks trying to take your money. Pretty much most of that money goes to creating sustainable community projects, with the whole idea that you build up a child to build a better next generation. If child sponsorship is something you've ever thought about and you've had questions or concerns about the prospect, you are welcome to ask me privately, I'd be happy to help you get a better idea of the issues and answers to the common concerns.
I really love the work of being a fundraiser. It's awesome knowing I get to use my sales skills (that I apparently have) for good. Today, we got four kids sponsored and that's four families whose lives will be changed for the better, four kids who WILL go to school, four kids who will have the opportunity to be kids. I'm just so excited!
But it also makes me realize how blessed I am.
–
GeneseePaws: If I was working traditionally you can bet I'd be using a brush, I love doing brushwork. However, all of my work for SSG is digital for one simple reason… the cost of ink and paper. Brushed lineart is gorgeous! If you like it you should definitely check out Chirault if you haven't already.
Zan: Hey, thanks! I was aiming to make her visually appealing and sort of alien all at the same time. For example, the total lack of hair, the extremely large eyes and ears, but her features are still very round and petite. Also compared to the other ladies, her design is more symmetrical. A lot of thought went into it and I'm very happy, she looks exactly like I wanted her to look. :D
Danny: Dude, if you use the email comment notes on donations things for comments I'll still get them and reply here. :D I appreciate your input, but don't go crazy, feed yourself first. I won't burn myself out, that's why I'm doing 2 pages a week instead of 5, even though I could probably be doing five with how fast a page is for me to do. It's 3 hours, maybe 4 for a trickier page.
Sorry if my replies aren't so cohesive I'M SO TIRED