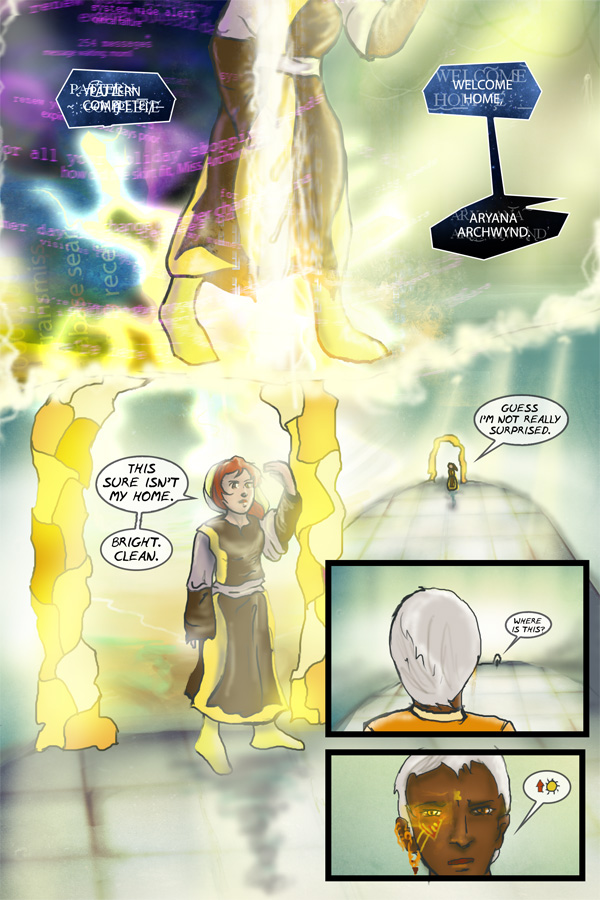 Chapter 1 – 20
Put up a new vote incentive! Alt page 1 that if you're on SpiderForest you might have already seen, but I know some of you guys did not come from there. Changed the donation meter to have Atrina on it. Thank you guys once more for the insane blast of donations and I hope you liked the extra pages last week! I was kind of sad to have to post just one page today. (I admit I would've done two only it's four thirty in the morning and I've only slept two hours since um… well… the last 36 hours or so? And while my body is convinced I'm totally awake I will probably fall asleep on my keyboard if I don't just give you guys this page.)
So, this is Wynd! Yay. And this is Tavar. YAY. He's my favoritest asshole in the universe. Right now he's all like 'what the crap are you doing in my quarters' except with about 500% more arrogant snob. Too bad this comic is in limited third!
The comic of the week is MEEE so if you're coming in from some other comic and reading my short chapter one, say hi, stick around, things are only going to get more interesting from this point. I love you guys. <333
Since I am the SpiderForest comic of the week I am going to link to…

Level! Level is a pretty awesome cyberpunk manga. It's the reinvisioning of a comic I loved back when I was newer at the comic thing, and I would say it was pretty inspiring for me, especially for the color choices for SSG. So I was tickled to find out the creator was relaunching it with newer and better art and writing at about the same time as I was preparing to make a new comic.
Hilariously, it even starts out the same way as I did: two kids screwing around with something they shouldn't be, and then it goes HORRIBLY WRONG. The remainder of the story is nothing like SSG (for one thing, Level plays the sci-fi/Matrixtastic stuff pretty much straight) and it's (in my opinion) much prettier than my work. So, tiered city. Sole survivor of something crazy that happened. And TONS OF SECRETS? Yes!
I guess I could have linked to my other comic but what fun is that.
So yeah. Vote for the new incentive if you want, and see you Friday. :)
—
Koad: Long time no see! :D I remember you used to comment on Between Places all the time. My ankle seems to be in reasonably decent shape now.
Darwin: None of it's really important but if you need help trying to figure any of it out I'd be happy to help you. Thanks for the compliments! :D
GeneseePaws: I'm not familiar with the Amber novels, but I think it's cool that so many of us fantasy creators seem to get similar ideas, like there really might be some universal constant of magic… but thank you, thank you. :D
naleta: Oh, don't worry about having to comment every day. I appreciate the occasional comments as much as I do the regulars, and your life is way more important than my ego. Thank you for the glowing compliments. As I said above, I haven't read the Amber novels but I'll have to check them out if I get some time. If it would be easier for you I can reply inline rather than doing the 'next update' replies.
Zan Azoth: Yes he did indeed bring you here, and he told me he was going to bring you. :D Thank you for your comments and I'm glad you enjoy it!