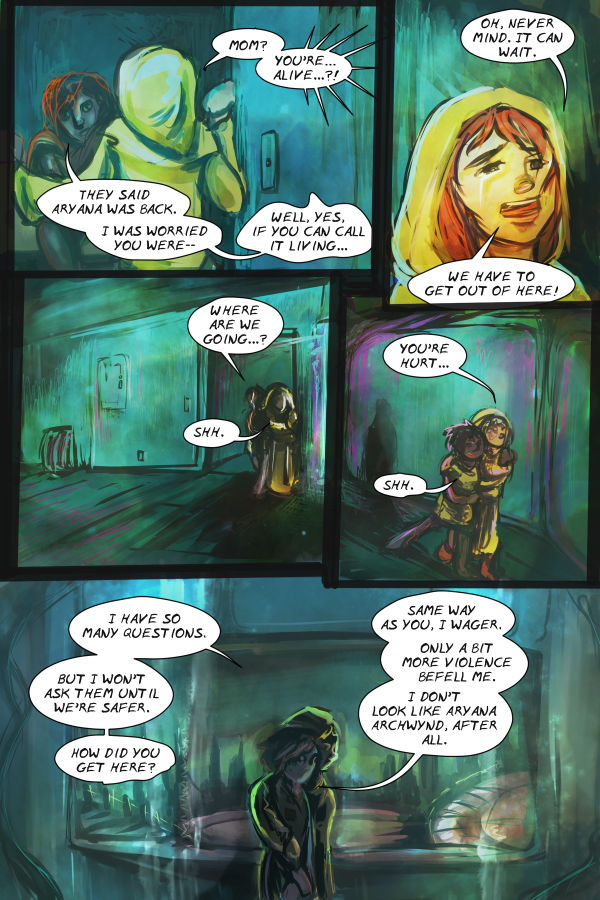 Chapter 3 – page 11
Well, this page took longer than I anticipated. I've been slowly leading up to the fact that the titular "Xerida Stargazer" is the missing member of the Vilanar family, tangled into this Aryana business. I have pencils for quite a few following pages, and we're burning towards the end of act one.
I will be doing the art for a short story for another SpiderForest comic, Spare Keys for Strange Doors This is going to start up July 28 and run until the short story's finished. It's an urban paranormal fantasy short. Great stuff. It's nice to be working with a good writer. There's also a short story of mine running on Mysteries of the Arcana that I did a couple of years back, but he's posting it now. It's also urban fantasy, dealing with LGBT issues in the church.
I sent out an email the other day with a pile of concept art to readers who've donated to me or commented a lot over the years. Just a little thank you for support, have some stuff that's not online. If you DIDN'T get the concept art email and you'd LIKE it, just let me know. :D
—
Scott: …mountains at the bottom of my peninsula? I live in the Canadian prairies, I wonder if you've mixed something up. Welcome to my comic from Lucy's, though! I hope you stick around and you like the work I'm doing on Lucy's comic.
Naleta: I've been building up to the reveal for SO LONG NOW
Auron: Welcome back! I might be a slowass updater but I do think it's getting interesting. :D