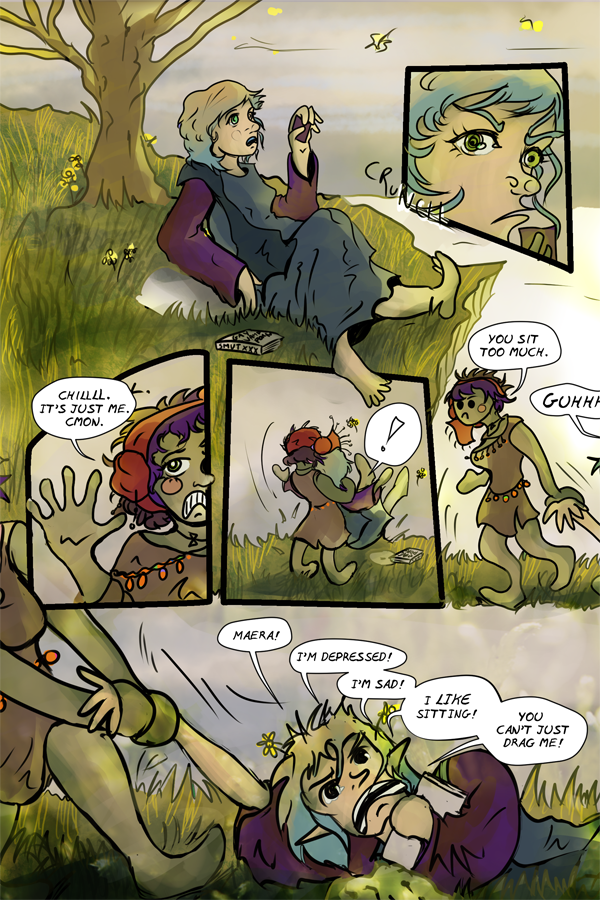 [S] Chapter 3 – page 1
SUPER SRS CHAPTER COVER
…not so srs first page.
This is not actually supposed to be the first page of the chapter but I had so much trouble with the suuuper srs start to the chapter that I finally scrapped it and made this dorky update instead. Everyone who has seen it has actually loled so I have high hopes that you also, will lol.
I am in fact angling for this to be the new style. It's a little bit faster and the dorky expressions communicate a little bit better? I think anyway? I dunno. It's 4:30am and I'm only posting this in some crazy I finished some art blitz.
I changed two things in the archive. One is this:
http://www.stargazersgate.com/?comic=cover
The other is this:
http://www.stargazersgate.com/?comic=chapter-one-1-2
Oh also, SpiderForest has a bunch of new people and you should read their comics. I am too lazy to link to all of them, but if you go here and read every comic you haven't read before you should be fine, right? XD
And Kaspall, a longform comic I've been reading since I started Between Places on Comic Genesis… so a while… has just FINISHED! Give Lucy some love. :) After all, she has given me some love as well! Check out her shiny piece of fanart in my gallery.
(also updated gallery with fanart from Kat from Sunset Grill!)
—
Arnold: You are the only person who makes me believe that there is a purpose to having a Patron. Should I make one? Would it make it easier for you and your determined donations? xD